My recent trip to Florida allowed me to measure a few species I don't see
regularly. Some of these are likely height records for the moment.

Loblolly-bay (Gordonia lasianthus) is quickly becoming one of my favorite
trees! The tropical foliage, gorgeous flowers and impressive thick bark add
up to a beautiful tree. I did not find any specimens larger than those
reported by Neil Pederson (63 cm) but a 17.1" (43.4 cm) dbh tree was still
impressive to me! The tallest I found was 65.6 feet tall and 14.6" dbh.

Tallest Loblolly-bay growing under slash pine (?) at Lake Lizzie Nature
Preserve, Saint Cloud, FL

Bark detail of Gordonia

Live oak (Quercus virginiana) has always impressed me with their huge
spreads and girths but little is known about how tall they can get. I have
measured them to 66 feet tall on Edisto Island, SC but suspected they could
get taller. A visit to Bok Tower Gardens in Lake Wales, Fl offered a "wide
spread" of nice oaks to survey. These oaks were likely planted in the late
1920's and have grown to fairly impressive sizes already. One tree caught my
eye and a solid laser shot yielded 35.7" dbh X 93.3 feet tall. As far as I
know this is the tallest ENTS has recorded. Larry?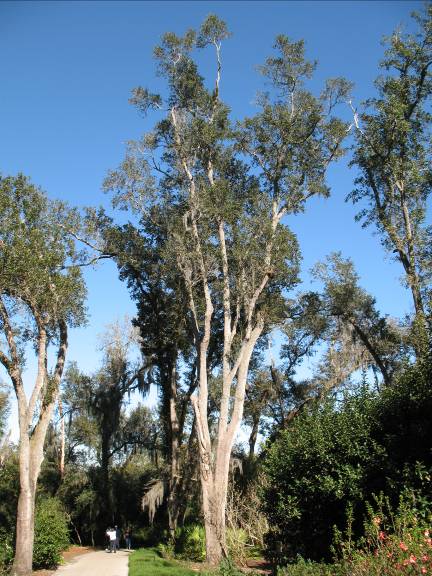 Tall live oak at Bok Tower Gardens, Lake Wales, Fl

A side note about Bok Tower Gardens. From many, many miles the huge tower of
Bok Tower Gardens, housing an impressive carillon, could be seen totally
dominating the landscape. Helping to accent the height of the tower is the
fact that it sits atop one of the highest points in Florida at 294 feet
elevation. The brochure handed out at the admission gate gave some
information on the tower, including its weight. But to my dismay the height
of the tower was not listed anywhere! Well, of course I had to measure it!
205 feet to the top of the sculptures on the crest. It looked taller.

205 foot tall Bok Tower

Longleaf pine (Pinus palustris) is a ubiquitous southern pine and a fine
grove caught my eye in Saint Cloud, Fl. A small park contained a specimen
21.2" dbh X 94.3 feet. I am sure they get way taller but there is a start!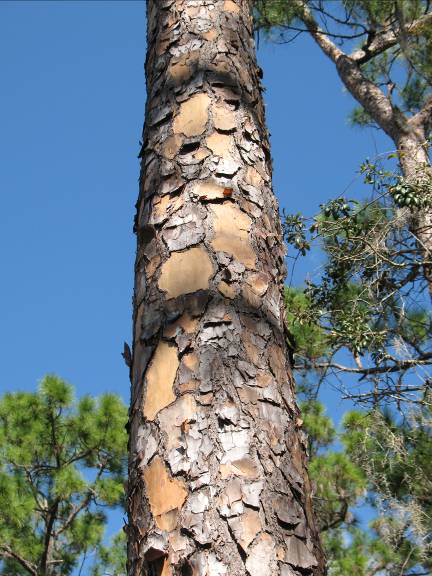 Slash pine (Pinus elliottii) is a species I am not familiar with. In
hindsight I think I did measure a few mistakenly thinking they were longleaf
pine. Ugh. Anyway, mid eighty-footers. OMG! What a beautiful species!

Will F. Blozan

President, Eastern Native Tree Society

President, Appalachian Arborists, Inc.

http://groups.google.com/group/entstrees/browse_thread/thread/51539b5a5df09b6f?hl=en
---
---