A while back there was some discussion about whether autumn colors were more
influenced by temperature or day length. I always felt it was day length,
however because there are so few trees in coastal Georgia that exhibit fall
coloration I really was not that aware of it. Most of the deciduous trees
down here just turn brown and drop their leaves throughout the winter. This
year seemed to be the exception as some of our trees actually showed some
bright color this winter. The weather patterns here are highly variable in
the winter as much of the time we are under the influence of the tropical
highs that keep the cold continental fronts at bay with only the strong ones
penetrating giving us brief hard freezes. Our winter months normally are the
driest with 2 to 3 inches per month from Oct through Feb as opposed to 5 to
7 inches per month during May through Sept. This winter has been drier yet
as we have only had a couple of fronts make it through and the total for
December was .64 inches and January .93 inches. Back in late November we had
an early incursion of cold, dropping temps into the upper 20's on the inland
areas while the area within 25 miles of the coast remained above freezing. I
noticed the red maples and hickories developed some good color after that in
the inland areas. After that, we had an extended warm period through
December and early Jan with unusually mild temps, in fact I didn't even run
the heat for the last three weeks of Dec and a couple periods in Jan. Many
of the plants that normally bloom in Feb were in bloom by the 15th of Jan.
and many of the red maples have already bloomed and are dropping seed. Then
around the third week of Jan, the Alberta Clipper blew in dropping temps to
30 degrees on all the way to the coast, with only the barrier islands
escaping the freeze. On Friday, Jan 30th, I was in the woods checking some
trees on one of the state parks just inland of the ICW and I noticed that
the Turkey Oaks and Sweetgums that had remained green earlier where turning
colors. This got me to wondering if it wasn't temperature as this area just
had it's first freeze on the 17th of January and the day lengths have been
increasing since December. The oak was fully turned and the sweetgums
starting to turn. Normally the oaks have all turned by Christmas and while
the younger sweetgums often retain their leaves all winter, usually they are
purple by now.

Sweetgum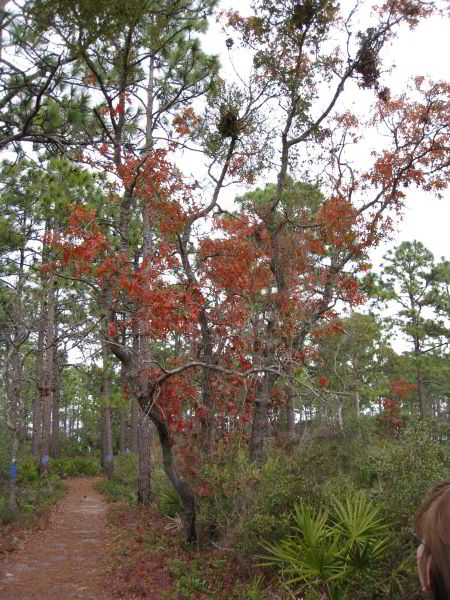 Turkey Oak

Winter Colors January 30, 2009
Will Fell

http://groups.google.com/group/entstrees/browse_thread/thread/468728907116e2cb?hl=en
---
---