==============================================================================
TOPIC: Interesting Tree
http://groups.google.com/group/entstrees/browse_thread/thread/773ae568c0870a31?hl=en
==============================================================================

== 1 of 5 ==
Date: Tues, May 20 2008 7:32 am
From: "Will"

Came across this tree Sunday while paddling a nearby creek. It is about a 10
inch sweetgum growing out of the butt swell of a cypress tree. During normal
water levels the tree would be about 6-8 feet above the water line. There is
probably not another sweetgum within 100 yards as this cypress is out in the
creek itself. Hopefully this photo will post.

Will F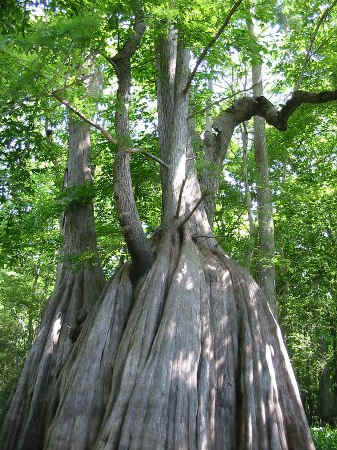 == 3 of 5 ==
Date: Tues, May 20 2008 7:47 am
From: James Parton


Will F,

Cool picture!

Where is this creek located? I bet the surrounding forest is nice.

JP


---
== 4 of 5 ==
Date: Tues, May 20 2008 2:00 pm
From: Andrew Joslin

Beeyouteeful trees! I've never seen bald cypress in it's natural habitat,
the cypress butt structure (dare I say trunk flare?) is amazing, the
sweetgum is a bonus! I have a lesser but charming enough equivalent, a
young red maple growing between swamp white oak surface roots:

http://tinyurl.com/6393cn
http://www.flickr.com/photos/naturejournal/487501956/in/set-72157600185466439/

-AJ
Andrew Joslin
Jamaica Plain, MA
---
== 5 of 5 ==
Date: Tues, May 20 2008 4:39 pm
From: JamesRobertSmith


Interesting trees! That is a very cool cypress. Where was it?

I have a photo of a sabal palm growing out of a live oak that's rather
funny. But I've given up trying to figure out how to post photos here.

---
---