==============================================================================
TOPIC: Mt. Jefferson Natural Area NC
http://groups.google.com/group/entstrees/browse_thread/thread/668afdb85bbfe008?hl=en
==============================================================================

== 1 of 1 ==
Date: Mon, May 19 2008 10:01 pm
From: James Parton


ENTS,

Joy and I visited Mt. Jefferson State Natural Area in Ashe County NC on Saturday. After a 3 hour drive we found the park was well worth the effort. The previous week Joy found a link on the web advertising the park and brought to my attention a paragraph on the American Chestnuts found there, especially dead standing trees. The hike itself was an easy 1 mile or so loop around the summit. It is not steep since you can drive nearly to the top.

http://www.byways.org/explore/byways/12832/places/28430/

http://www.ncparks.gov/Visit/parks/moje/main.php

First off. The views are impressive. You can see most, if not all of Ashe county and surrounding area from the summit. The forest is composed of Oak, Red and Chestnut, Birch, Beech and the amazingly common American Chestnut. It was not hard to find chestnut trees. Often as sprouts surrounding standing dead trunks. But I found several large live trees including one of the largest chestnuts I have ever seen. While beginning the hike I asked a park ranger on the chestnuts found there and introduced myself as an ENTS and TACF member. He gave me the location of a big chestnut located near the trail. I found it easily since it's trunk had a pink ribbon circling it. The tree had a height of just over 40 feet. It proved a challenge to measure because of not being able to see the trunk and top simultaneously. Using a technique I have seen Will do, I finally got it. I found several other nice chestnuts here as well.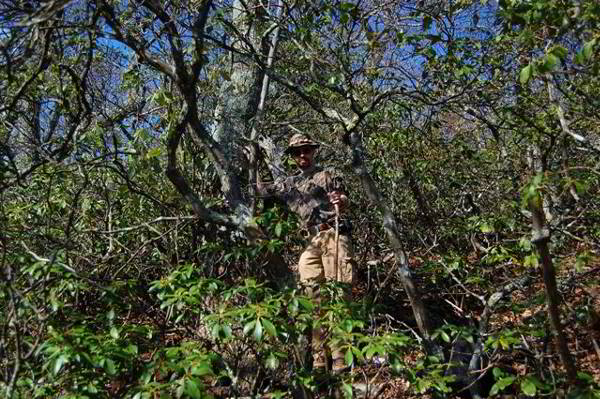 40 Foot American Chestnut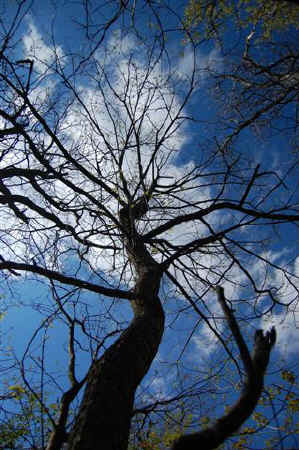 Live American Chestnut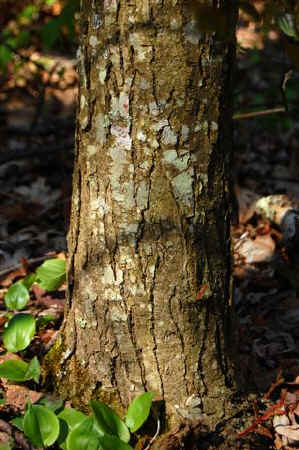 American Chestnut Trunk
The trees here in general are not very tall. The winds and winter weather are harsh up here and few, if any trees, even the oaks, exceed 60 feet in height. The branches being bent and twisted show evidence of the harsh weather often present here. It is mid-may and the trees are only now putting out on the 4600 ft summit.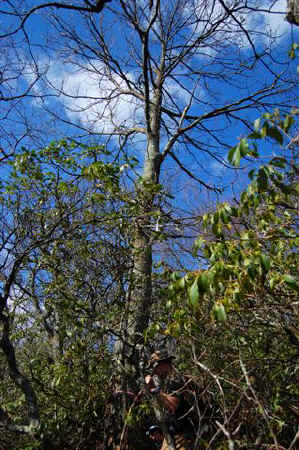 Measuring a Chestnut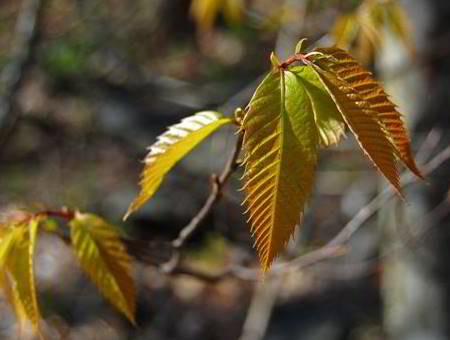 New American Chestnut leaves
It seems that I find many of the best living chestnuts at high altitude sites. Most have blight damage. I have often wondered if the cold has any effect on the blight, allowing the trees to become larger than those at lower altitudes before succumbing to the fungus. The blight fungus is visible as orangish patches on the saplings and many of the larger trees have dead limbs and cankers. The patches reminds me of the white patches ( Masses of adelgid ) that Will posted recently concerning the hemlocks. Blight or Adelgid...Both suck!

CBH Height

American Chestnut 26.40' ( Dead Trunk )
American Chestnut 3' 5" 30.49' ( Dead Trunk )
American Chestnut 10' 1/2" 27.99'
American Chestnut * 2' 3" 32.38'
American Chestnut * 2' 6" 37.50'
American Chestnut 4' 2 1/2" 40.20'!
Red Oak 7' 8 1/2" 57.29

* Measured at 1' 5" above ground.

James Parton

---
==============================================================================
TOPIC: Mt. Jefferson Natural Area NC
http://groups.google.com/group/entstrees/browse_thread/thread/668afdb85bbfe008?hl=en
==============================================================================

== 1 of 1 ==
Date: Thurs, May 22 2008 9:00 am
From: James Parton


ENTS, Especially Ed,

To add, there were some nice Hawthorns at Mt. Jefferson also. To about
20 feet tall. Two of my favorite trees in one place. Hawthorn &
American Chestnut!

JP

---