ENTS,

For the last several weeks I have been working on a Rucker Index for Valley Forge National Park which is located in Southeast Pa. The park has over 3,500 acres that consists of deciduous forests, rolling meadows, and some wetlands. The Schuylkill River divides the park into two sections. The north side is located in Montgomery County and the south side in Chester County. Valley Creek also runs through the south portion of the park. The west side of Valley Creek is mostly wooded and I have not measured that area yet. There is also a 10 to 15 acre stand of secondary growth that is not open to the public which I hope to get permission to measure. I didn't include nor measure any of Scott's trees from the Pa. Big Tree List. I saw several of them and they seemed healthy. Awesome trees! Here are the numbers.

VFNP Site Index

Species CBH Height County Comments

Ailanthus 5'11" 92.8 M

American Elm 6'8" 82.4 C

American Basswood 5'5" 82.4 C

American Beech 11'5" 110.0 C

American Hornbeam 1'3" 50.1 C

Big Tooth Aspen 3'3" 84.4 C

Bitternut Hickory 7'10" 109.5 C

Black Cherry 7'2" 106.6 C

Black Gum 8' 111.7 M

Black Locust 4'5" 102.1 C

Black Oak 6'9" 125.7 C

Black Walnut 5'2" 110.8 C

Box Elder 9'1" 91.0 C

Chestnut Oak 5'10" 94.5 C

Chinkapin Oak 9'10" 61.0 C

Common Hackberry 7'6" 103.7 C

Eastern Cottonwood 5'7" 123.0 M

Eastern Red Cedar 2'11 37.0 C

European Larch 3'7" 76.2 C planted

Flowering Dogwood 1'5" 43.2 C

Great Rhododendron 9.5" 19.3 C

Honey Locust 3'11" 103.3 C

Mockernut Hickory 6'1" 112.5 C

Mountain Laurel 1'1" 17.4 C

Northern Catalpa 8'1" 104.1 C

Northern Red Oak 8' 130.6 C

Norway Maple 11'8" 90.8 C

Norway Spruce 4' 95.2 C planted

Osage Orange 9'1" 81.0 M

Paw Paw 1'3" 31.8 M

Pignut Hickory 4'8" 105.8 C

Pin Oak 11'1" 102.4 M

Pitch Pine 3'4" 69.3 C planted

Red Maple 5'6" 93.6 C

River Birch 4'9" 61.0 M

Sassafras 6'1" 108.3 C

Shagbark Hickory 4'1" 107.4 C

Silver Maple 8'8" 115.4 C

Slippery Elm 7'8" 84.9 C

Sugar Maple 5'5" 80.3 C

Sweet Cherry 7' 90.8 C

Swamp Chestnut Oak 8'6" 118.2 C

Swamp White Oak 8'3" 98.7 C

Sycamore 13'4" 127.3 C

Tulip Poplar 9'2" 142.3 C

White Ash 5'7" 119.0 C

White Mulberry 5'1" 71.5 C

White Oak 7'6" 115.3 C

White Pine 5'7" 121.5 C planted

Yellow Birch 3'7" 89.9 C

VFNP Rucker Index

Tulip Poplar 9'2" 142.3

Northern Red Oak 8' 130.6

Sycamore 13'4" 127.3

Black Oak 6'9" 125.7

Eastern Cottonwood 5'7" 123.0

White Pine 5'7" 121.5

White Ash 5'7" 119.0

Swamp Chestnut Oak 8'6" 118.2

Silver Maple 8'8" 115.4

White Oak 7'6" 115.3

RI 123.83

12 x 100 Club

Black Oak 12'3" 101.9

Silver Maple 12'10" 101.8 w/3'2" grape vine

Silver Maple 12'7" 106.3

Silver Maple 13'3" 111.7

Sycamore 13' 102.3

Sycamore 12'11" 107.0

Sycamore 12'7" 113.9

Sycamore 15'3" 115.7

Sycamore 13'4" 127.3

Tulip Poplar 13'8" 100.8

Tulip Poplar 14' 104.3 broken top

Tulip Poplar 14'5" 105.3

Tulip Poplar 14'5" 109.5

Tulip Poplar 12'9" 118.6

Tulip Poplar 13'1" 124.3

Tulip Poplar 12' 130.5

Tulip Poplar 12'1" 132.2

Noteworthy Trees

Black Walnut 14'1" 87.6

Red Maple 11'11" 76.4

Sassafras 9'10" 64.7 broken top

Silver Maple 13'6" 89.1

Silver Maple 13'1" 95.9

Sycamore 12'6" 91.6

Sycamore 12'4" 96.3

Sycamore 12'11" 97.9

Sycamore 13'9" 97.7

Sycamore 17'1" 98.4

Tulip Poplar 17'9" 89.0 broken top & hollow, upper branches seem healthy

Continued at:
http://groups.google.com/group/entstrees/browse_thread/thread/a8d3c14b80e050a7?hl=en


---
George Feio, January 10, 2009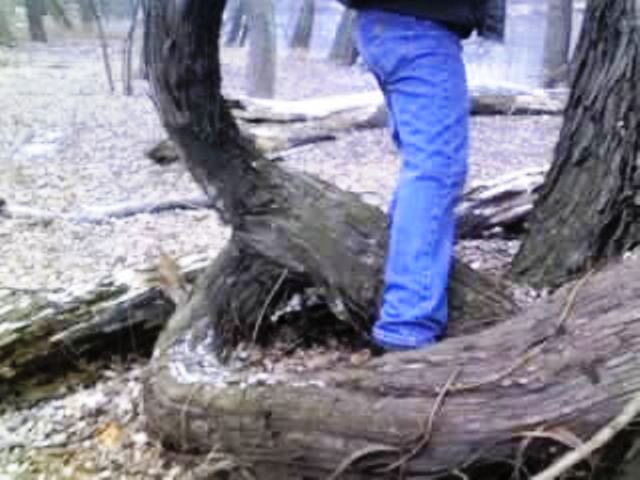 I've been working on a RI for Valley Forge National Park, Pa. While
measuring some trees today my son and I found a silver maple with a large
grape vine in it. The vine splits about three feet from its base and has a
3' 2'' circumference. Its length is easily over 100'. The maple is 12'10"
x 101.8'. The vine is a foot or two below the maples max height and has
about another twelve feet on the ground before it starts its climb up the
maple. I didn't bring my camera today so my son took some pictures while I
measured the maples cbh with my cell phone so I apologize for not having a
better picture. I hope to finish the parks RI in another week or two.

George

http://groups.google.com/group/entstrees/browse_thread/thread/a051f9e53660ce24?hl=en
http://groups.google.com/group/entstrees/browse_thread/thread/93b2ff25d8db5b52?hl=en
---