ENTS,

After returning from the woods on an outing at Congaree, our group stopped by the visitor center and talked to the park staff for a short time. Kathleen O' Grady, of Congaree mentioned to me that she would like to see a study on how tall Baldcypress knees can get. I told her that I would mention it to all the ENTS.

All ENTS that has access to places where baldcypress grows check out the knees. Let's see how big of one we can find. Larry, Marcus, Will F, Don B. You have access to wetland areas. Go for it! Anyone who visits a swamp or river keep a tape handy.

Ranger Stuart Greeter mentioned that the Waccamaw River Heritage Preserve has numerous head high or over knees. He mentioned that they are on an offshoot of the river on the right going downstream. He said being among them gives one a " spooky " feeling!

This is a challenge! Check out my pics from Congaree. After only a brief search and slogging through the mud on Sunday evening and Monday morning I found two impressive knees. One is 5ft 10in tall! The second is 4ft 5in tall. My hiking stick in the photos is just over 5' 3" tall.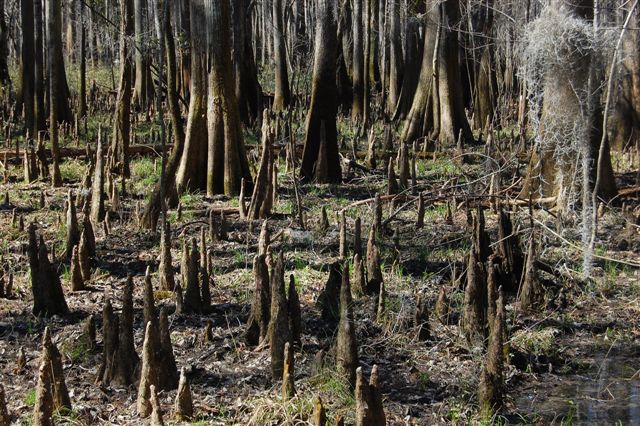 I prefer calling cypress knees " Swamp Stalagmites "!

James Parton
45 inch
5 foot 10 inch
---
[James Parton, March 2, 2009]
This is my first pathetic attempt at using Microsoft Excel. As I have seen from other ENTS using Excel is a great way to keep data on a subject all together. Larry & BVP have proven that well. I just have much to learn.
I hope to use it also to put together ENTS finds for the American Chestnut Project. Larry has used Excel very successfully for his Live Oak Project.

James Parton
---
Continued at:

http://groups.google.com/group/entstrees/browse_thread/thread/af212795d899070b?hl=en
---