Hi ENTS,

Although this is technically February [and essentially March], I wanted
to share some images from the KY Ice Storm from the last week of January
'09. I hadn't experienced an ice storm as severe as this one and it was
fun listening to and seeing how different trees responded to the ice. I
will not forget the persimmon next to my kitchen window just pop all
night on the 27th and rain branches down onto my roof or side of the
house.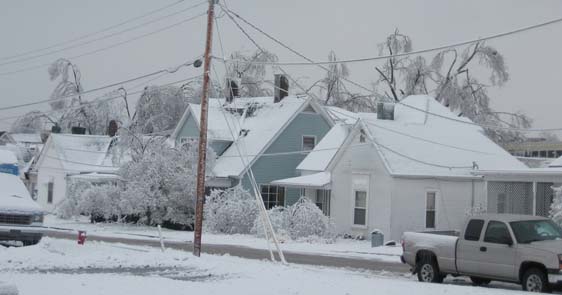 Across the Street During
Across the Street After
I left town when my power went out on the 28th and missed the
next few days. My 89.8 yr old neighbor told me the real damage to the
trees would come after the ice melted and the trees snapped back. There
did seem to be more damage when I returned to town.
Silver Maple during
Silver Maple after
The silver maples were hit hard. But looking at the before and after
pictures, it is amazing to see how many feet the outer branches sagged
and sprung back.
Some red maples were completely smashed, like this one on campus.


The river birches next to the library were waylaid! It was pretty in
the middle of them. They have since been cut.

Green River Ferry at Mammoth Cave National Park
I made it out to central Kentucky and Mammoth Caves the last couple of
days. I didn't make it into Big Woods yet to see how much damaged it
might have experienced - hope to visit in the fall. The ice damage to
portions of Central KY that I saw were something. Mammoth Caves Nat.
Park lost power for a few days, too.

Coniferous Disaster
Angiosperm Anguish
The cedars and pines took it real hard. Angiosperms were hit fairly
hard as well, but seemed to be less disturbed. These pictures are the
worst. Most of the forest, like those in the bottom of the Green River
watershed seemed to have less damage.

Wish there was time to do a species review of damage. Would be very
interesting.

neil

Continued at:

http://groups.google.com/group/entstrees/browse_thread/thread/51489a8849326fcb?hl=en
---