Norway Spruce (Picea abies) reaches its maximal size in the southernmost part of its natural range in Balkan peninsula. It grows there in mountains at elevations from about 1000 metres (3000 ft) upwards. The tallest measured specimen has been 63 metres (207 feet) tall in Sutjeska National Park in Bosnia and Herzegovina (source: Leibundgut (1982): "Europäische Urwälder der Bergstufe" (="European Ancient Forests of the Mountain Level")). A part of that national park is one of the very few truly old growth forests in Central and Southern Europe. Unfortunately, the forests of Bosnia are now largely off-limits due to land mines from the Bosnian War. However, Bosnia's southern neighbour, Montenegro, is completely safe. Only 10-20 miles to the southeast from Sutjeska National Park, in the Montenegrian side, there is Durmitor National Park. In this park, there is at an elevation of 5000-5200 feet a small area which should be "Prasumski Rezervat" = "primeval forest reserve". I explored this area thoroughly last summer, but to my disappointment the forest was in fact not primeval: there are plenty of stumps and young forest. However, some individual Norway spruce trees were big and extremely tall, taller trees than I had ever seen in Europe. I would not be surprised if some of them was 60 metres tall, but unfortunately, I have not found any measurements. I attached a photo of the base of one of these tall spruces (Picea_abies_Durmitor). CBH is not particularly large. In the photo, the tree on the left behind me is Fagus sylvatica. This forest is dominated by Picea, Fagus and Abies alba.
| | |
| --- | --- |
| Norway Spruce | Norway Spruce |
So, there is not truly old growth forest in Durmitor National Park. But an another park in Montenegro, Biogradska Gora National Park, contains real old growth forest, one of the very few such places in Southern Europe. The forest has been protected in 1878, and it was already then a very natural forest. There I found some even bigger spruces, although they were not so tall as the spruces in Durmitor. The spruce in the photo Picea_abies grows at an elevation of 1230 metres (4030 feet). Isn't it almost like a Sitka spruce! The foliage in front of the spruce is of Abies alba. This part of the forest is dominated by Picea, Abies, Fagus sylvatica and Acer pseudoplatanus.

I attached also some photos of other big trees in Biogradska Gora National Park: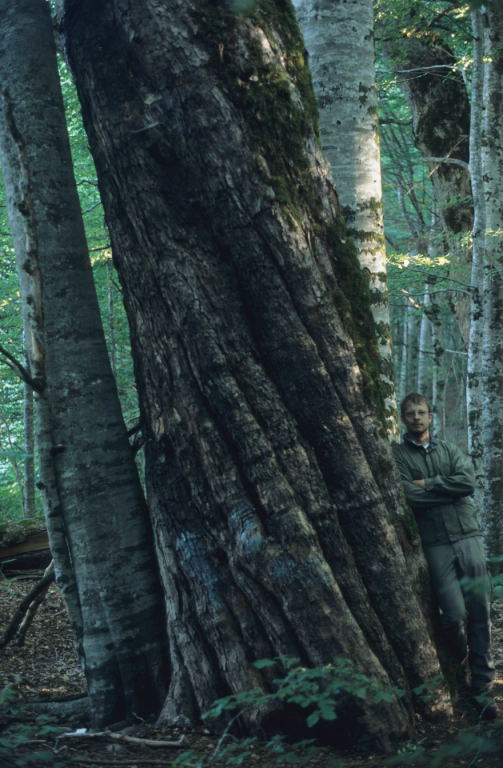 Acer pseudoplatanus grows near a lakeshore in Fagus sylvatica -dominated forest. The other trees in the photo are Fagus trees.

The two Fraxinus excelsior photos are about the same tree. The tree grows at the edge of mesic Fagus forest and wet forest dominated by Fraxinus and Alnus incana.

Unfortunately, I do not usually measure trees. Sometimes I have carried a measuring tape and measured CBHs but this time I did not. You can use me as a scale; I am 187 centimetres. ;)

Kouta

Continued at:
ttp://groups.google.com/group/entstrees/browse_thread/thread/b12d2cc780283e0d?hl=en
---