Cook Forest Big Tree Event / ENTS Rendezvous 2007
April 20-21, 2007

Heart's Content Pine - photo by Carl Harting
---
Back to Don: Useful Formula List
dbhg-@comcast.net
Apr 23, 2007 08:30 PDT
Don,

At the dendromorphometry presentation on Saturday AM, I think I saw a few folks in the audience throwing up the sign of the cross at me at each new formula. Made me a little nervous. I think I was supposed to return to my coffin and close the lid tight. Joking aside, the presentation went well. I'll soon know. Lee sat up front and I think was grading me. He hasn't sent me my grade yet. I'm hoping for at least a B+.

Log Cabin Inn- Photo by Carl Harting

Dr. William Carr, developer of the RD 1000 Dendrometer-Relascope attended the presentation and event. He's a great guy. We got along very well. ENTS couldn't have a better connection to LaserTech. This fellow is heavy duty. Too bad Paul Jost, our resident electrical engineer, wasn't there to ask questions and understand the answers.

Later on Saturday, Will climbed the Seneca hemlock and did a successful tape drop. From up the ridge, I took two measurements of the tree via our ENTS methods. I got 144.8 feet on one shot and 145.8 on the other. The average of those two, which I felt were equally probably is 145.3 feet. Will's tape drop was 145.4 feet. Results like those allow me to feel very confident that overall, our sine-based technique is not only good, but very good. The big tree yields about 750 cubic feet of trunk volume. That is most respectible.

On our return trip, Monica and I went through Loyalsock State Forest and I got to see a swath of tuiptrees that follows the Loyalsock River. The Loyalsock is in the northeastern quadrant of PA, east, but not extreme east - maybe just east of center. Overall the trees are slender, I measured one roadside tuliptree to 13.1 feet in circumference and 140.2 feet in height. It was the largest tulip I saw. I think several others are in the 130 to 140-foot height class. I hope Monica and I can return to the Loyalsock maybe later this summer. It is worth getting a full Rucker index on. The ridge-side stuff is nothing to get excited about, but the ravine trees have potential.

Bob

10 going to 11 and beyond
Robert Leverett
Apr 23, 2007 10:13 PDT

ENTS,

The just concluded Cook Forest Extravaganza enters the annals of
ENTS as another successful gathering of the faithful, with a few curious
onlookers wondering what all the fuss was about. It is always good to
gather together, talk shop, and share experiences with my Ent comrades,
but this gathering had a bonus for me. Dr. William Carr, the designer of
the Criterion 400 (I think), the RD 1000 (I'm sure), and other forest
measuring devices joined us. Bill is a splendid fellow and possesses a
wealth of knowledge. He and I have communicated a number of times before
on both the RD 1000 Dendrometer-Relascope and the Trupulse 200 Laser
Rangefinder-Hypsometer. But it was a surprise and pleasure to meet Bill
in person. He is a fountain of knowledge and insights. Why did he come,
considering that he has a blistering schedule and doesn't live close by?
He is from Montana and he travels all over the world. Be that as it may,
he still came to the ENTS gathering at Cook Forest and honored us by his
presence.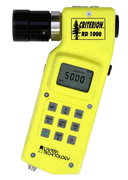 RD 1000 Dendrometer-Relascope

Well, I think Bill realizes that ENTS is a highly competent,
dedicated group that merits observing. We will find new uses for some of
his instruments and exercise them in exotic ways. We will put numbers
into the books that have scientific value and his instruments will have
made contributions. He got a handout on dendromorphometry, which
documents the extreme forms of our pre-occupation. Well, he ain't seen
nuthin, yet. The genie is out of the bottle. Exploring the features of
trees in the field mathematically and discovering dimensional attributes
that may be obvious only in hindsight is where we are headed. The
challenge is to bring our whole group along. The ENTS motto should be:
Leave no Ent Measurer Behind".


Bob

Robert T. Leverett
Cofounder, Eastern Native Tree Society

Re: Cook Forest Big Tree Event
Lee Frelich
Apr 23, 2007 17:24 PDT
Bob:

I just got back home from Cook Forest.

It hard to decide whether you should get a B+ or an A- for you presentation
at Cook Forest, but I am sure that the final document on dendromorphometry,
whenever it is finished, will be an A+.

On the way home I didn't have time to stop at Warren Woods, but I did stop
at Carver Roehl County Park, in Rock County, WI (where I grew up), to see
the stand of yellow oak (Q. Muhlenbergii), which I hadn't seen since I
moved to MN 20 years ago. It hasn't changed at all. This stand is right on
the northern edge of the range, and the trees must be very slow growing.

I still can't figure why it was 70 degrees and sunny during the Cook Forest
Bog Tree Extravaganza--where was the usual rain/snow mixture accompanied by
30 mph winds? Thanks to Dale for arranging the good weather and the schedule.

Lee


RE: Cook Forest Big Tree Event
Carl Harting
Apr 23, 2007 19:06 PDT
It was refreshing to see the parking lot nearly full at the Log Cabin
Inn Saturday morning. I don't think the weather could have been any
better with clear skies, comfortable temperatures and no wind or bugs to
speak of. What a great experience. Will's tree climb definitely
generated some interest as several folks approached us with questions in
only a short period of time.

Scott,

Good lord that sycamore is awesome!! Wish I could have been there with
you to see it.

The butternut height was 59.9 feet.

Carl

Cook Forest Rendezvous...
E. Daniel Ayres
Apr 25, 2007 16:38 PDT
ENTS:

Thanks to everyone who helped make this event happen. It is so gratifying
to see first hand that there are people who share the interest and
excitement I feel when I look at a big tree. Dale's trigonometry lesson
gets an A+ from me because of his careful attention to both sources and
magnitudes of errors. I doubt if I personally will every own and use any of
the expensive measurement equipment, preferring to take pictures and call in
the experts if I find anything significant in my travels. My high school
geometry and trigonometry teacher once again was remembered for her awesome
"extra credit" week of lectures on estimation delivered to a room full of
seniors feeling the heat and waiting for graduation.




I took a trip down memory lane and revisited the Ridge Camp campsite I
inhabited in the summers of 1950, and 1951. Three familiar trees near
campsite #18 were still there, surprisingly to me, not that much bigger 56
years later, but almost everything else is changed. The old handmade stone
fireplaces are gone, There were no big wooden tent platforms, the deeply
shaded and thickly treed, needle carpeted flat where I met my first deer has
been gutted to make room for buildings, dug up to bring in electricity for
RV's, and filled with gravel to support vehicles. Everywhere around the
circle things seem worn and tired. The duff seems thinner, and in many
places has been worn away by human traffic. There were stumps everywhere
bringing to mind trees that died or were removed to open things up, and only
traces of the old circle road remain. Its pavement was uneven and broken
up in places those many years ago, but I recognized a trace of the original
pavement near the end of the entrance road going up before the first dip.

Hopefully the rain we are getting here will bring needed additional moisture
in as it moves east.

During the Saturday afternoon tree climb, as I was making my contributions
to the disturbance of mosses and helping trample the area around the tree
being climbed, I asked myself, "How long will the area around the site take
to recover from our visit?" Anyone comment? Cook Forest seemed so big
back then. Now it is tiny.


E. Daniel Ayres, AKA ZundapMan