Trees of the NJ Pine Barrens
Barry Caselli
May 19, 2006 13:20 PDT
Hello,

I thought I'd give a breakdown of what trees we have here in the Pine
Barrens of NJ, with a little description of the place.
The Pine Barrens covers all or portions of 8 New Jersey counties,
although that figure changes to 7, depending on who you talk to. Plus
there are a couple of outliers to the north and one to the south.
The pine of the Pine Barrens is of course Pitch Pine. In some areas you
can find groves of Shortleaf Pine, and in a few areas, Virginia Pine. It
is possible to find all 3 together, but that's kind of rare. I also know
of one spot where there are Loblolly Pines, but they are on the edge of
what used to be a CCC camp, which is now grown up into woods. The trees
are larger than an average Pitch Pine, but probably much less than 100
years old. In some areas there are more oaks than pines, but usually
it's the other way around. In some sections of the Pines the understory
consists of Scrub Oak, which I believe is also called Bear Oak. It is a
shrub. Another understory shrub, less common than Scrub Oak, is Dwarf
Chestnut Oak. Other oaks in the Pine Barrens include White Oak, Scarlet
Oak, Northern Red Oak, Black Oak, Blackjack Oak, Chestnut Oak, Willow
Oak. There are also some other less common species that occur in a few
areas of the Pines, but I don't remember what they are. Plus there are
some naturally occurring hybrids in a few places.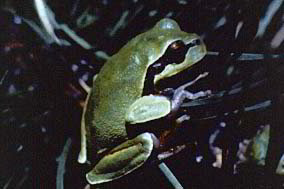 rare Pine Barrens Tree Frog - NPS Photo
Other trees that can be found are Sassafras, American Holly, Eastern Red
Cedar, and Flowering Dogwood in some areas. In ghost town sites and old
homesites you can find at least one of the following: Norway Spruce,
White Pine, Aspen (either Quaking or Bigtooth), Tuliptree and Buttonwood
(Sycamore).
In one swampy place in the southern reaches of the Pine Barrens there is
a single Bald Cypress tree, said to be the only such tree in the state
of New Jersey that was not planted by man. The New Jersey state champion
Bald Cypress is in South Jersey, but outside the Pine Barrens, planted
in someone's yard. It's big around, but not tall. Our dwarf forests consist of
Pitch Pine, Scrub Oak, and Dwarf Chestnut Oak.
Shrubs in the Pines include Mountain Laurel and many, many other Heaths,
including Highbush Blueberry and Lowbush Blueberry.
The wet or damp ground consists of Atlantic White-Cedar, usually in pure
stands. There is also Red Maple and Black Gum (Sour Gum). Sweetgum can
also be found, but it's probably escaped from civilization.
Most, if not all of the Atlantic White Cedar is second or third growth
because it was used for boat and ship building, and house building in
the 1700s.
Most of the pines and oaks are also second or third growth because they
were all cut down for the iron, glass, paper, charcoal and cordwood
industries of the 1700s through the early 1900s.
It is very hard to find ancient trees, but a few exist here and there.
Where I live is around in the middle of the Pine Barrens.
Barry
RE: Trees of the NJ Pine Barrens
Barry Caselli
May 20, 2006 13:33 PDT
Hi again,

When I wrote the list (below) of trees in the Pine Barrens, I missed one
Oak (I thought I might), and one other tree. The other Oak I missed is
Post Oak, one of my favorites because of it's cool leaf shape. I also
missed Catalpa. This is one of the trees most likely to be found at
ghost town sites. Also the farm next door to us has a large one in front
of the house. It's beautiful when in bloom.

One interesting thing about Catalpa, when it ages, it becomes like the
ancient Bristlecone Pines, with hollow trunks, and just one strip of
living wood sometimes. These trees never seem to die, even under the
worst circumstances. Even when they look they couldn't possibly be alive
(especially when viewed in the winter) they still are. No matter how
ratty and beat-up looking they are, I've nver found a dead one. Amazing.

RE: Trees of the NJ Pine Barrens
Joshua Kelly
May 19, 2006 13:48 PDT

Sounds like a nice back yard Barry.

Have you run into swamp pink (Hellonius bullata) in the Pine Barrens? I
hear it has one of the world's best populations.

Josh

RE: Trees of the NJ Pine Barrens
Darian Copiz
May 19, 2006 16:00 PDT

I went to the NJ pine barrens about a month ago in search of Helonias
(among other plants), but I think I was too early although I found one
plant I suspected to be Helonias (but not blooming). The pine barrens
were at least 3 weeks behind DC, and maybe even a week behind the
immediately adjacent parts of NJ. The Atlantic white cedar swamps are
very cool - forming pure dense stands with some larger trees along
creeks. It's a tree that probably isn't heavily represented in the ENTS
databases - but I didn't do any measuring. I'm sure I will be returning
at some point.

Darian

New Jersey Pine Barrens
Edward Frank
May 19, 2006 17:21 PDT

Plants of the New Jersey Pine Barrens
http://www.mikebaker.com/plants/plants.html

To further the knowledge and the protection of NJ's Pine Barrens, a very
unique place.


Plants of the New Jersey Pine Barrens
http://www.georgian.edu/pinebarrens/

The New Jersey Pine Barrens, or Pinelands, is a unique natural area covering
over 1 million acres of the Outer Coastal Plain in southern and central New
Jersey (click here for map). The soils are sandy and acidic, and fires were
historically common. As a result, many species are fire-adapted. The
dominant pine species in fire-prone areas is Pinus rigida (Pitch Pine). For
geologic and climatic reasons, partially relating to glaciation events, many
species are at their range limit (northern or southern) in the Pinelands.


New Jersey Pinelands National Reserve
http://www.nps.gov/pine/

The Pinelands National Reserve includes portions of seven southern New
Jersey counties, and encompasses over one-million acres of farms, forests
and wetlands. It contains 56 communities, from hamlets to suburbs, with over
700,000 permanent residents. In 1978 it was established by Congress as the
country's first National Reserve -- a Reserve being an area of nationally
significant resources that are protected through a program of local land use
management supported by federal financial and technical assistance.
In the Pinelands, specific areas have been designated for environmental
protection, forestry and agriculture, with growth being directed and
encouraged in and around areas capable of accommodating further development.
As a United States Biosphere Reserve, the Pinelands also serves as a
laboratory for fostering a harmonious relationship between humans and their
environment through a program of research that integrates the social,
physical and biological sciences. The Pinelands is truly a special place.
Its people are distinguished by a unique relationship with their
environment, and the environment is distinguished by being habitat for over
a thousand species of plants and animals--almost 100 of which are threatened
or endangered.


The New Jersey Pinelands Commission
http://www.state.nj.us/pinelands/

The Mission of the New Jersey Pinelands Commission is to preserve, protect,
and enhance the natural and cultural resources of the Pinelands National
Reserve, and to encourage compatible economic and other human activities
consistent with that purpose.


Pinelands Preservation Alliance
http://www.pinelandsalliance.org/

To Protect and Preserve the Resources of the New Jersey Pinelands:
Preserve the Pine Barrens ecosystem, its plants and wildlife, its water, and
its landscape throughout the Pinelands National Reserve.
Promote wide public awareness of the values of Pinelands resources and
issues involved in their preservation.
Advance permanent acquisition of land and development rights by private and
public conservation


National Geographic Society - Atlantic Coastal Pine Barrens (NA0504)
http://www.nationalgeographic.com/wildworld/profiles/terrestrial/na/na0504.html

Within the Atlantic Coastal Pine Barrens ecoregion, three major communities
provide a home for an array of wildlife. The pine-oak forests dominated by
post oak and blackjack oak are the tallest of the three forest types. At the
other extreme, the dwarf pine plains contain short pitch pines and blackjack
oaks that are often less than 9 feet (3 m) tall. Between these two extremes
lie the pine-shrub oak forests, a rare community dominated by pitch pines.


Pineypower Travel Info
http://www.pineypower.com/
RE: Trees of the NJ Pine Barrens
Barry Caselli
May 19, 2006 18:11 PDT

Darian and others,
I will be uploading some Pine Barrens plant photos to my Webshots
account. I think I will make a separate gallery. I will put in my photos
of Swamp Pink, and the various orchids I've seen, and some other rare
flowers. By the time anyone reads this they should be there for you to
see. If not, try back a little later.
http://community.webshots.com/user/dbarryc63
Barry

Bald Cypress and Buttonwood pics
Barry Caselli
May 21, 2006 19:35 PDT

Hello all,
I have added even more pictures to my "Barry's Nature gallery" at
Webshots. I added photos of 2 Bald Cypresses, one of which is supposed
to be the largest in New Jersey, plus a large Buttonwood in the same
yard. It is likely that all 3 trees were planted when the house was
built in 1725.
I do have photos of 3 more Bald Cypresses in New Jersey, including the
one that is supposed to be a native tree that grew there on its own. I
will locate and upload these photos soon.
In the past couple of years I've been on an informal Bald Cypress hunt,
looking for any examples I can find in this state. About 2 miles from
here there are 2 of them in someone's backyard next to a stream. I'm
assuming they were planted. But I suppose it's remotely possible that
they grew there on their own. But probably not.
Keep checking back, as I have been adding new photos often.
The Pine Barrens flowers and plants galleries are nearly complete for
now. http://community.webshots.com/user/dbarryc63 Many of the plants and
flowers shown are rare or very rare.
New Jersey Pine Barrens
Barry Caselli
May 26, 2006 14:50 PDT


Oh, and by the way, I've done a lot more work to my galleries at
Webshots, with new scans of some of the pictures that were already there
(some of the existing scans were pretty bad), and some scans of better
photos of the same tree or plant, plus lots more.
There's Barry's Nature Photos,
Pine Barrens Plants (Bonesets only),
Pine Barrens Plants 1,
Pine Barrens orchids,
Pine Barrens Plants 2.
There are many tree photos in that first gallery now.
http://community.webshots.com/user/dbarryc63
Spanish Oak
Barry Caselli
Jun 09, 2006 12:15 PDT

How could I have forgotten? I left this out when I made up the list of
the oaks that can be found in the NJ Pine Barrens.
So here's the list again:
1) Scrub Oak (a shrub)
2) Dwarf Chestnut Oak (a shrub)
3) White Oak
4) Chestnut Oak
5) Blackjack Oak
6) Post Oak (cool leaf shape)
7) Spanish Oak
8) Black Oak
9) Scarlet Oak
10) Northern Red Oak
11) Willow Oak (in widely scattered sections of the Pine Barrens)

Also in South Jersey, but outside the Pine Barrens:
Water Oak
Swamp White Oak, and others.

It is not uncommon to find #1 and #3-10 growing near each other on the
same piece of property.

Unfortunately there are no old-growth Pine Barrens forests.
They say that up until the late 1800s or early 1900s it was possible to
find ancient Atlantic White Cedars in some of the cedar swamps. I would
love to have seen them!
Barry
old Holly forest-- Sandy Hook, NJ
Barry Caselli
Jun 09, 2006 12:22 PDT

Has anyone every been to this forest? I've only read about it. From what
I hear there is a very old American Holly forest on Sandy Hook (New
Jersey).
They say the Holly trees make up the canopy, not the understory. I think
I read that some of them are over 200 years old.
Maybe this summer I will get up there and see these trees. They sound
awesome.
Barry
Mountain Laurel
Barry Caselli
Jun 15, 2006 19:25 PDT

Mountain Laurel grows throughout most areas of the New Jersey Pine
Barrens. There are some areas here and there where there isn't any, but
that's the exception, not the rule.

Every year, in late May and early June, I'm in amazement as I drive
around because the Laurel is so beautiful. Of course it does sometimes
have bad years, when it's not as pretty as usual.
I get to see a lot of it on my way to work every day.
It also grows up in the Highlands of North Jersey, along with
Rhododendron.

By the way, to my knowledge, if you remove trees from the forests where
Laurels grow, and more sunlight reaches the forest floor, the Laurels
will get stunted. They like growing in at least partial shade. This is
what I've heard.

Barry