ENTS,

I visited the Latodami Nature Center in North Park, Allegheny County, PA
twice during the last week, today with my son Paul assisting me. North
Park was formed in the late 1920's and is the largest park in Allegheny
County with just over 3000 acres.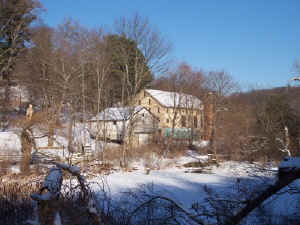 Latodami Nature Center
The nature center lies along a small creek called Grom Run and resides on an
old farm with a barn that is home to 4 relocated barn owls. The site
was made into a nature center in 1970 and the trails were updated in
1987 with the addition of a guided Braille Trail for the blind.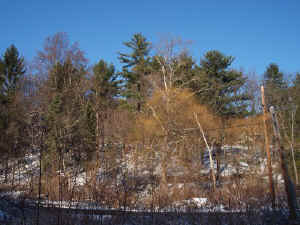 Driveway at Latodami Nature Center

Some of the trees I measured were planted along the driveway to the
barn, but the remainder were across Brown Road in an area that started
about 75 yards from the parking area on the Braille Trail.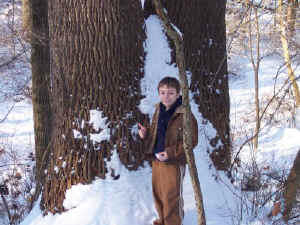 Double Tulip along Braille Trail
This area (around 50 acres) was not cleared for the farm
because of the steep slope of the hollow surrounding it. Much of the
understory consists of hawthorn and crabapple along the edges, American
Hornbeam and tons of Japanese Barberry which makes this the best time
of year to bushwack through the jaggers.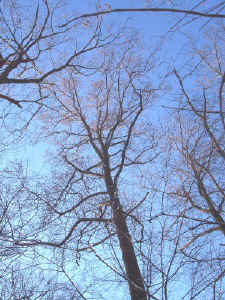 Tulip with Ice Coating

Some of the larger oaks near the hilltops were being smothered by large
grape vines. Ice on the branches from Thursday's freezing rain made for
some incredible views with the sun shining through the canopy.
Considering the amount of development in Allegheny
County this is a fairly respectable site.

Species CBH Height Comments

E. Hemlock 4.2 55.4
E. Hemlock 5.9 89.6 below driveway
Stag. Sumac 0.9 23.1 next to barn, just for you Ed
Black Cherry 5.0 93.3
Red Maple 7.5 68.5 below barn (planted)
Shag. Hickory 3.6 89.7
Pin Oak 7.7 108.8 along driveway (planted)
Sycamore 11.3 100.3 below driveway
Am. Beech 4.8 99.8
Am. Beech 7.7 111.7
E White Pine 8.6 100.8 along driveway (planted)
E White Pine 7.6 101.6 along driveway (planted)
E White Pine 6.4 107.5 along driveway (planted)
Norway Spruce 6.2 78.2 along driveway (planted)
Norway Spruce 6.8 99.9 along driveway (planted)
Norway Spruce 6.3 111.2 along driveway (planted)
White Oak 11.9 97.9
White Oak 6.2 103.8
White Oak 6.9 105.0
White Ash 6.4 108.0
White Ash 9.4 117.8
White Ash 5.9 119.4
N Red Oak 8.8 91.5
N Red Oak 8.1 109.1
N Red Oak 9.5 110.2
N Red Oak 10.1 110.7
N Red Oak 8.4 111.5
N Red Oak 10.7 114.0
N Red Oak 7.3 114.7
Tulip 7.0 116.6
Tulip 14.8 118.8 double trunk
Tulip 6.0 120.3
Tulip 7.3 122.0
Tulip 8.4 128.2

Rucker Index 110.0

Carl