Klingle Valley, Rock Creek Park, DC
Darian Copiz
Jan 05, 2006 10:58 PST
Please forgive the lenghthy description. The first three of the
following paragraphs are an introduction to Rock Creek Park, after which
discussion of the specific site begins.

Rock Creek Park is the oldest and largest urban park in the National
Park system. During the Civil War, President Lincoln spent much time in
a cottage on the grounds of what is now the Soldier's and Airmen's Home.
This demonstrated the need for a presidential retreat within Washington.
Nathaniel Michler of the Corps of Engineers was commissioned to compile
a report with the purpose of finding a site for a home and additional
parkland around surrounding it. Michler focused most of his efforts on
the parkland and ended up proposing a much larger park than had
originally been envisioned. The area he looked at was the valley and
environs of Rock Creek. His report and map of the creek led to
attempted legislation for the park in 1867. This failed, but eventually
did become a reality in 1890. The original park consisted of over 1,700
acres. It is now over 2,000 acres and includes many of the surviving
tributaries of Rock Creek.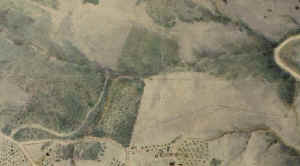 Klingle Valley portion of the 1867 Michler map of Rock Creek, Library of Congress

Although Washington D.C formally became a city in 1801, Georgetown,
which is encompassed within the District was settled in 1696. The
capital city was not built on virgin land, but on farmland. Some parts
of the city were likely farmed by previous Native Americans as well. At
the time Rock Creek Park became a reality, much of the uplands were in
agricultural use but most of the stream valleys were wooded. Although
settlers had been in the area for almost 200 years before the park's
creation it is possible that some areas were relatively untouched. One
National Park Service site I came across stated that the trees along
Melvin Hazen Branch are 150 to 300 years old, signifying that at least
in that location some of the trees may be pre-settlement. Michler, in
his 1867 report described parts of the park as "thickly mantled primeval
forest" and stated that there was "already large growth of trees and
shrubs".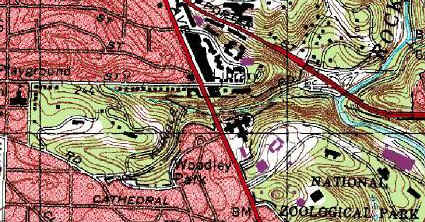 "Klingle Valley, USGS"
Rock Creek cuts through the piedmont before it empties into the Potomac
River at Georgetown, the bottom of the fall zone. In Washington D.C.,
much of the creek winds through steep valleys with numerous tributaries
feeding into it. Some of these tributaries are now piped underground or
dried up, but those that remain are usually heavily wooded although
many, as well as the Rock Creek valley as well, have roads running
through them. The District receives an average of about 40 inches of
precipitation a year. Soils are primarily slightly acidic loams and
gravelly loams. Almost all streams in the park are subject to flash
flooding and erosion. Additionally the stream valleys contend with foot
traffic, invasive species, and air and rainwater pollutants.

On December 24th and January 2nd I visited one of the tributary stream
valleys, Klingle Valley. This valley is on the west side of Rock Creek,
abuts the north end of the National Zoo and is the next tributary valley
south of the Melvin Hazen Valley. The valley has a highly eroded stream
and an old road running through it. The road was closed in 1991, but
there are current plans to rebuild it. Reconstruction will most likely
remove many of the trees along the stream and the road. Some of the
trees measured are actually located on the Washington Interantional
School grounds which is on the hill between the two branches of the
stream valley. The soil in the valley is gravelly loam with
practically no humus. There is little understory or new saplings. In
the north branch of the valley (school grounds) there are a large number
of rhododendrons which were most likely planted as part of a natural
garden for the adjacent mansion (now the school). The tallest trees
(tuliptrees) are located at the confluence of the two branches, but more
closely following the northern branch. Tuliptree is by far, the most
common tree. Beech is also common. Chestnut and Red are the oaks
occuring most frequently. Sycamore and ash occur intermittently along
the stream. The valley has two branches to it which I will refer to as
the north branch and south branch.

Carya glabra 6' 7" x 97.0' only hickory I saw in the valley
Fagus grandifolia 8' 4" x 119.3' near confluence
Fagus grandifolia 7' 5" x 110.7' school grounds
Fraxinus pennsylvanica 8' 10" x 131.4' south branch
Fraxinus pennsylvanica NA x 122.9' measured from Connecticut Ave.
bridge
Liriodendron tulipifera 9' 5" x 141.3' near confluence
Liriodendron tulipifera 11' 7" x 139.9' south branch
Liriodendron tulipifera 10' 10" x 137.8' near confluence
Liriodendron tulipifera NA x 132.4' measured from Connecticut Ave.
bridge
Liriodendron tulipifera 11' 6" x 130.8' south branch
Pinus strobus 8' 2" x 107.4' planted on school grounds
Platanus occidentalis 11' 2" x 135.2' south branch
Prunus serotina 5' 0" x 120.1' south branch
Quercus alba 8' 5" x 112.7' school grounds
Quercus prinus 10' 1" x 118.4' downstream of Connecticut Ave.
bridge
Quercus rubra 12' 10" x 131.6' impressive fluting, cbh
measured at about 6', downstream of Connecticut Ave. bridge
Quercus rubra 10' 3" x 112.5' south branch
Robinia pseudoacacia 5' 9" x 94.0' south branch

RI: 120.1 (Pinus strobus not included)

I had a difficult time finding 10 species. I found the black locust
just as I was leaving.

Darian


Re: Klingle Valley, Rock Creek Park, DC
Kirk Johnson
Jan 05, 2006 13:11 PST
Darian,

Thank you for this description, it brings back memories. I worked for the
National Park Service in Rock Creek Park during the summer of 1999. There
are some amazing tuliptrees, black & red oaks, sweetgums, and others
throughout the park, that's for sure! I worked in the invasive plant control
program when I was there. Invasives are a huge problem in Rock Creek Park.
Non-native vines such as porcelain berry and Asiatic bittersweet are
smothering forested portions of that park, as I'm sure you saw. Non-native
trees such as Norway maple and tree-of-heaven are invading.

Here's a little more background on Rock Creek Park, if anyone is interested.
This is taken from:

Fleming, Peggy and Raclare Kanal. 1995. Annotated checklist of vascular
plants of Rock Creek Park, National Park Service, Washington, D.C. Castanea
60(4): 283-316.

"A total of 656 species representing 374 genera and 106 families were
documented. Of these, 418 species are indigenous and 238 are introduced."

"The Civil War period marked the beginning of large-scale direct impact on
Rock Creek Valley. Fort DeRussey and Military Road were built in and through
present-day Rock Creek Park....To provide site lines for the guns of the
fort, an area north of Military Road was cleared. Neither the boundary of
the cleared portion of the park nor the thoroughness with which the plan was
executed can be determined today. The planned clearing was a strip one and
one-half miles wide, extending along the entire arc of forts surrounding the
capital. Surveys made of the park area during the war represent the area
north of Military Road as a stump field (Engineer Department 1864-1866).
This portion of the park has since succeeded to forest."

"Presently, the Rock Creek park vegetation is mature, second growth forest.
Previous uses of the land are discernable. Within the forest are occasional
large oaks, over 275 years old, with low open branching characteristic of
open grown trees. These trees are probably survivors of small stands of
original forest. A landscape of farmland interspersed with small patches of
woods is consistent with descriptions for neighboring Maryland in 1910."

"Multiple-trunked, old Liriodendron tulipifera are found in diverse
habitats, which suggests resprouting following timbering or storms."


Kirk Johnson

RE: Klingle Valley, Rock Creek Park, DC NEW RUCKER?
Will Blozan
Jan 05, 2006 15:40 PST
Great stuff!

Sounds like some of those trees will bring the RI up for Rock Creek Park.

Here was my last trip 1/2005:

Chestnut oak 9'11" x 122.3'
Black oak 9'6" x 129'
White ash 10'2" x 126.3'
Mockernut 4'4" x 121.3
N. red oak (var. rubra) 8'9" x 135.4'
Pignut hickory 6'1" x 124.9'
Tuliptree 9'3" x 162.5'
American beech 6'7" x 119.4'.
White oak 8'7" x 125.9'
Sycamore 6 x 136.7'

Rucker Index of 130.37


Will