History and Great Trees - Archive of Older Posts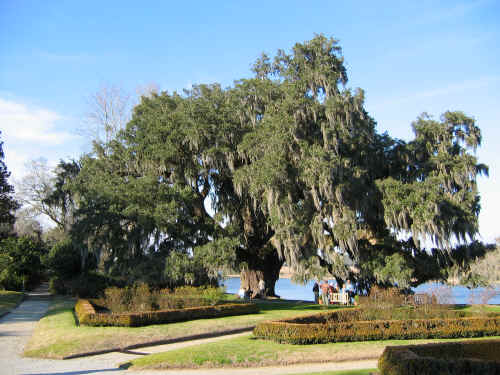 Middleton Oak, SC - photo by Will Blozan
There are many magnificent trees out there that are neither the largest in volume or the tallest example of their species. Others are associated with a historical site or person. There are a myriad of reasons why a tree could be considered special in some way. This section of the website will focus on these individual trees.
An excellent overview of some of the largest trees recorded in various hiostorical documents is found in an extensive article by Colby Rucker: Great Eastern Trees, Past and Present 2004.
One of the motivations for adding this section of the website was found on the The Virginia Big Tree Program website. One section is called the Remarkable Trees of Virginia Program http://www.cnr.vt.edu/4h/remarkabletree/index.cfm It's introduction reads: "Please join us in searching for Virginia's most remarkable trees! The overall goal of this project is to increase awareness and appreciation of Virginia's trees, especially among Virginia's youth. The culmination of the project will be a book describing Virginia's finest trees, and you could be one of the people who nominates a tree chosen to be profiled. We are looking not just for champion trees (the largest of their species) but also for trees that are noteworthy for their age, beauty, history, community significance, or for any other reason known to the nominator."
Similarly the Pennsylvania Big Tree website: http://pabigtrees.com has a section on Penn Charter Trees. These concepts were interesting and I opted to add a similar section to the ENTS website. I will include pages for trips to trees on historical sites, historical photographs, and related material on the website.
Edward Forrest Frank
---

Historic and Great Trees
On March 14, 2010 The Eastern Native Tree Society and Western Native Tree Society switched from discussion lists on Google Groups to a new discussion list in a Bulletin Board format at: http://www.ents-bbs.org/index.php Posts made since the inception of the BBS on march 14, 2010 will be sorted and archived on the BBS. Click on the link above to go to the equivalent section on the new BBS. This website will continue to serve as a front end for the ENTS and WNTS groups. It will continue to serve as a repository of older posts, and will serve as the host site for special projects and features that are not well suited for a BBS format. Please visit the BBs for the latest information and trip reports.
Overview

Historical / Famous Locations
Trees In Memoriam: Great Trees Lost to the World (Since 2000)
Historical References to Tall White Pines & Others
Great Trees
Historical Photos
Trees and Famous People
External Links